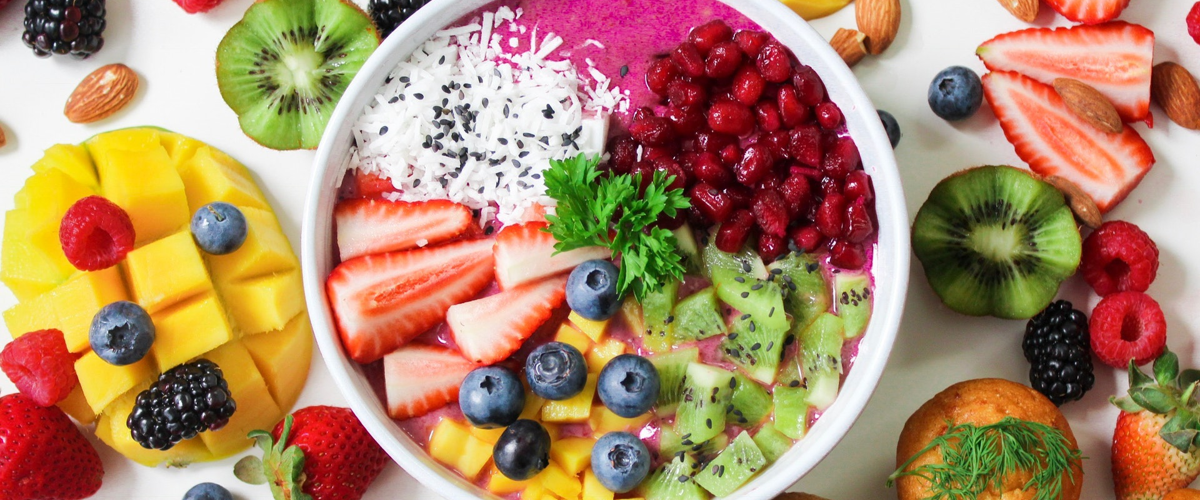 Top 5 Places To Get Healthy Meals In Tanjong Pagar
Notes:
1. Article updated on 13/01/2023 to replace Wafuken (permanently closed) with Randy Indulgence Acai Bar (Guoco Tower).
2. Article updated on 28th June 2023 to update listings' operating hours and Google ratings/reviews count.
Feeling hungry after fasting for your blood test? Want to know where to find healthy and delicious meals after your health screening in the Central Business District (CBD) area?

Here are 5 places for healthy food near our clinic in Tanjong Pagar worth checking out.
1. Unagi VS Salmon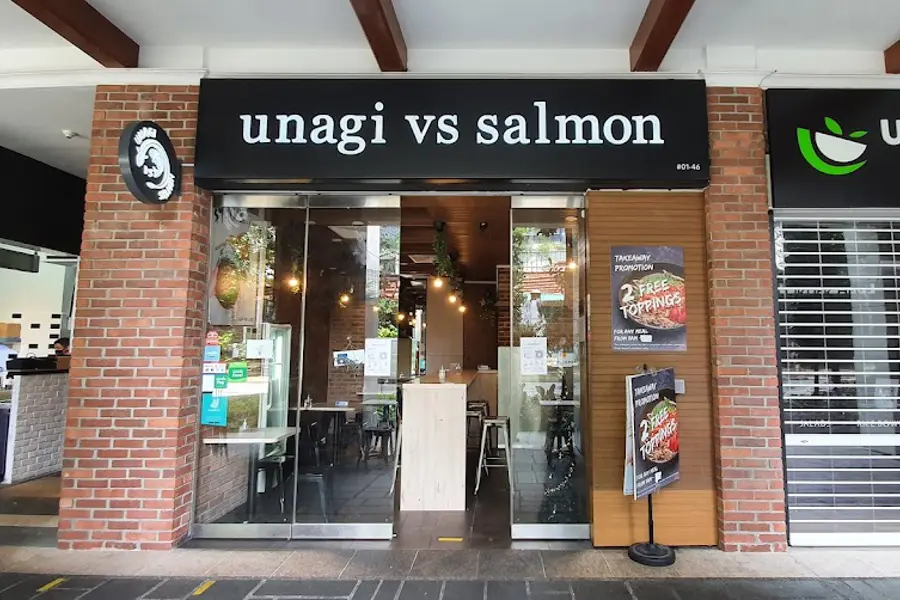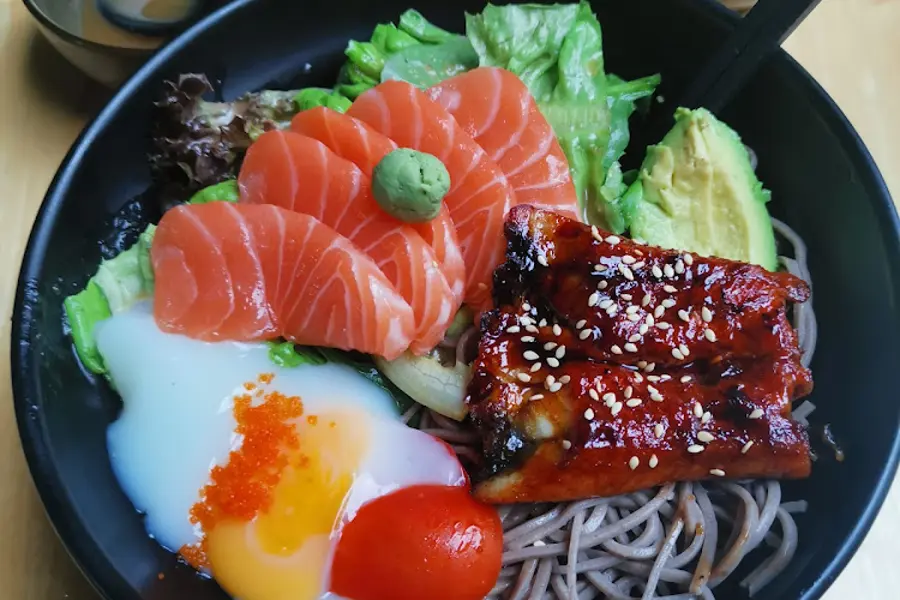 Located at Icon Village, Unagi VS Salmon is a casual Japanese-style restaurant that serves healthy meal options with its grain and poke bowls.

It is a popular spot for the working crowd, and they only use the freshest of ingredients, such as their Norwegian salmon and unagi, which are freshly delivered daily, and their freshly handmade sauces, marinades, and sides. You are able to customize your own bowl by selecting a wide range of bases, protein mains, and add-ons.
What their customers say:
A hidden gem 💎
Well made bowl of Mentaiko & Salmon Unagi Salad. You know it's good when you throughly enjoy your salad!
The Unagi Is served warm and the Mentaiko + ebiko is topped generously without being overpowering.
The price isn't on the high end for the sheer quality and type of food you are getting. Value for money and delicious, will be back again for sure🤤
Love how affordable and delicious the rice bowls are at Unagi vs Salmon. The portions of the rice bowls are filling, with an array of choices for the base (mixed red rice, soba etc). These healthy rice bowls hit home with the right flavours, using quality ingredients to deliver the best dining experience.
Address
12 Gopeng St, #01-46/47 Icon Village, Singapore 078877
Google Ratings
306 reviews (as of 28/06/2023)
Social Media
Google Maps Listing

Click Here

Operating Hours
Mon – Fri: 11am to 9pm
Sat - Sun: 11:30am to 8pm
2. Whole Earth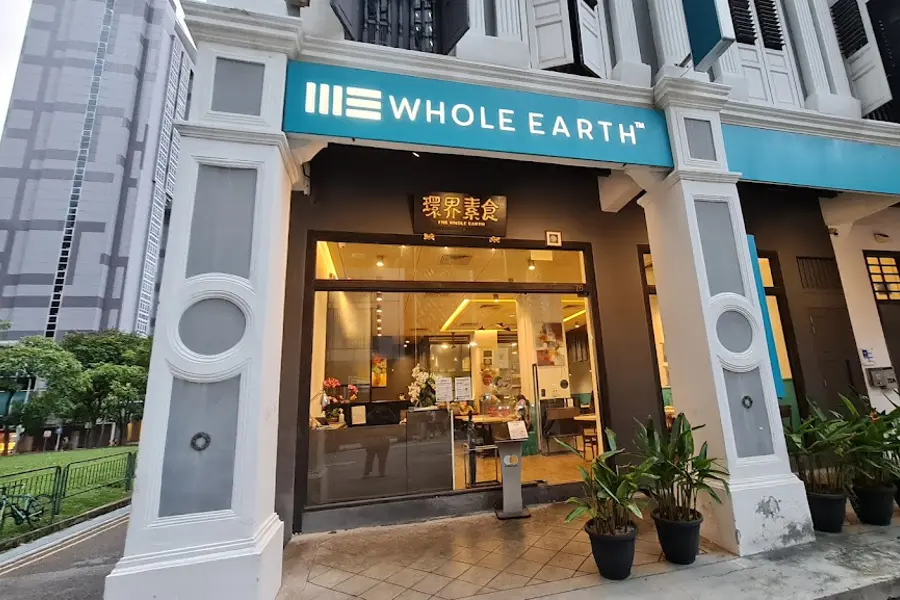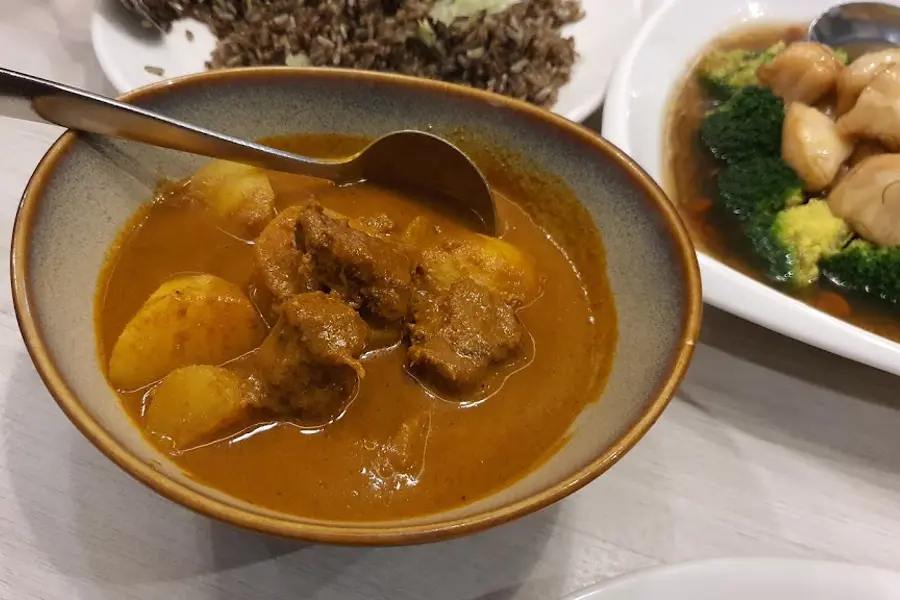 Whole Earth is a Peranakan-Thai vegetarian restaurant located at Peck Seah St, and is Singapore's first and only plant-based restaurant to be awarded the Michelin Bib Gourmand for 5 straight years (2016 to 2021).

Some of their signature menu items include the Monkey Head Mushroom, Olive Rice, and Tofu with Oats. They also have a wide range of healthy vegetarian dishes on their menu to choose from.
What their customers say:
There is a reason that this is a Michelin Starred restaurant even if it is a vegetarian restaurant. We ordered the olive fried rice, monkey head mushroom, oat tofu. The seasoning were impeccably right. While the food gives you a burst of flavour for every bites taken, it does not weight down on your taste buds. The great flavour lingers shortly in your mouth while gently fades away.
This place will convince non vegetarian that vegetarian foods are very good as well.
Been patronising this vegetarian restaurant for many years and their dishes never disappoint us. We have a few favourites and must order like the tofu with oats, olive brown rice and monkey head mushroom! Highly recommended for a healthy and delicious meal.
Address
76 Peck Seah St, Singapore 079331
Google Ratings
1027 reviews (as of 28/06/2023)
Social Media
Google Maps Listing

Click Here

Operating Hours
Mon: Closed
Tue – Sun: 11:30am to 3pm, 5:30pm to 10pm
3. Randy Indulgence Acai Bar (Guoco Tower)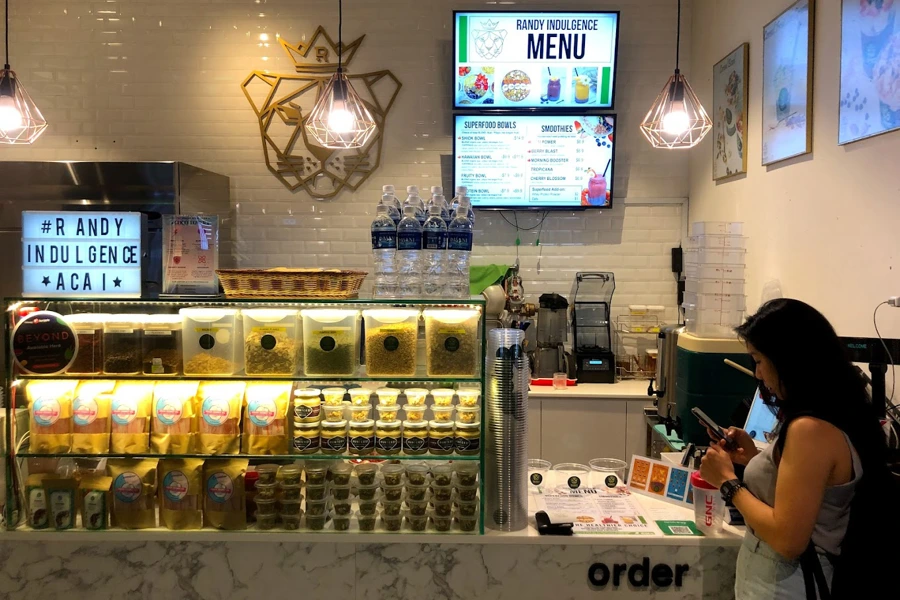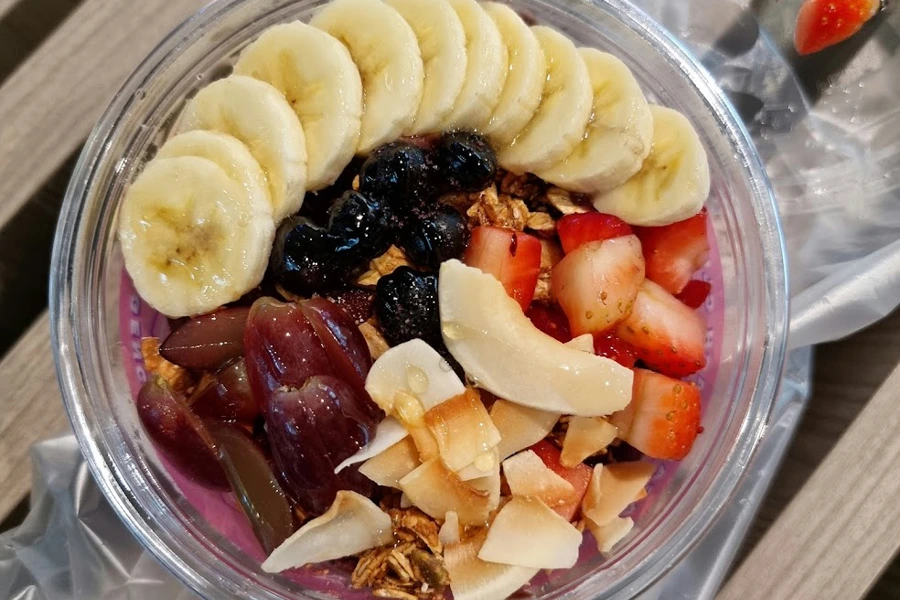 Randy Indulgence is a trendy and upcoming healthy Cereal and Acai (grape-like fruit native to the rainforests of South America) Bar located in the hustle and bustle of the Central Business District (CBD) of Tanjong Pagar.

They offer the great tasting superfood Acai. You can have your ice cream in a healthier way with their fruit and ice cream fusion, plus a dash choice cereals for the added crunch factor in your creamy snack.
What their customers say:
I am so addicted to those delicious açai bowls, I am a loyal client of Randy Indulgence for years now. People are very nice, friendly and humble, everybody is working hard to meet the expectations, including the big boss. I am always leaving this place with my delicious açai bowls and a big smile on my face due the warm welcoming that I receive from all the team. Thank you.
To go place for acai fruit bowl and drink. The acai bowl is a mixture of fresh fruits with icy acai base and drizzle of honey sauce. Favourite smoothie is the acai power.
Address
7 Wallich Street, Guoco Tower, B1, #10, Singapore 078884
Google Ratings
128 reviews (as of 28/06/2023)
Social Media
Google Maps Listing

Click Here

Operating Hours
Mon - Fri: 8am to 9:30pm
Sat - Sun: 11:30am to 6pm
4. The Salad Corner Singapore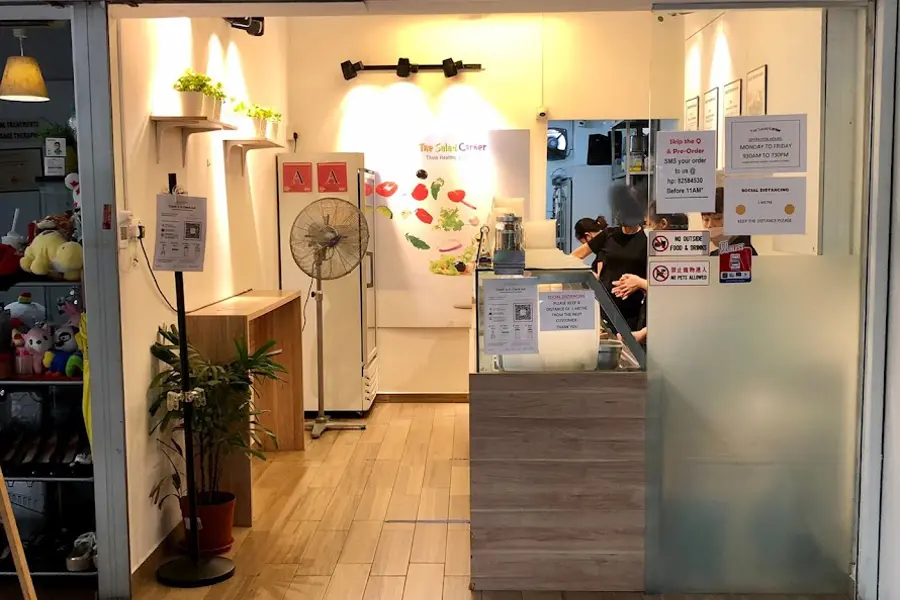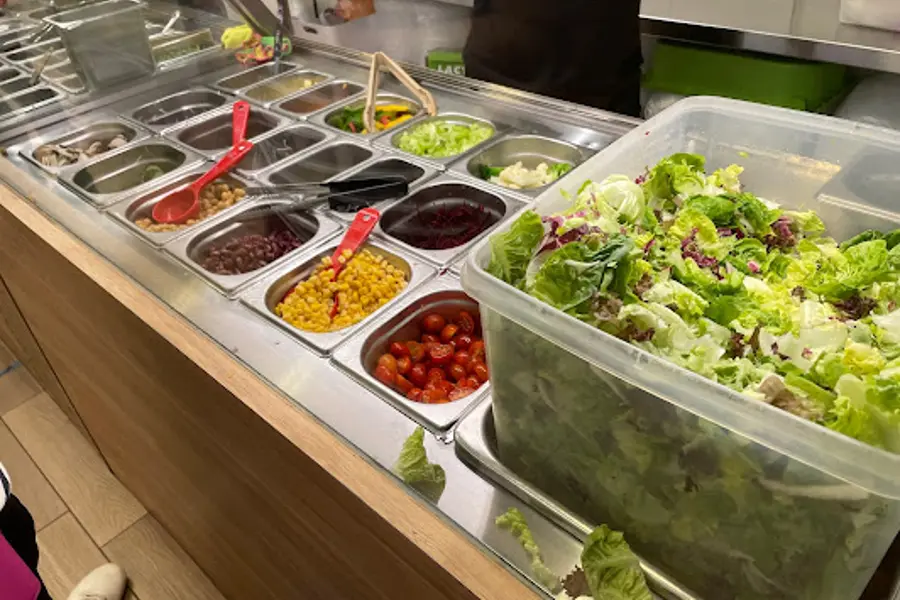 Located at Tanjong Pagar Plaza, The Salad Corner is a popular salad shop that offers "Create your Own Salad" and "Warm Salad Box" options. It was set up in June 2010 with the idea to provide affordable salad options in the Central Business District (CBD).

They have a wide variety of fresh ingredients, vegetables, and dressings to choose from, making it an ideal meal for lunch which is both healthy and affordable.
What their customers say:
I love it!! There are a lot of veges to choose from and I especially loved the braised black fungus. I also love the different sauces they had. It's definitely value for money and healthy. I had the basil n garlic sauce that went so well with the chicken slices. Thank you!
Best value salad in TP area. Fresh ingredients, good choice of dressing, whenever I feel like getting something healthy for lunch, this is my go to spot! They may have a long queue during peak hours.
Address
1 Tanjong Pagar Plaza, #01-04, Singapore 082001
Google Ratings
33 reviews (as of 28/06/2023)
Social Media
Google Maps Listing

Click Here

Operating Hours
Mon - Fri: 9:30am to 7:30pm
Sat - Sun: Closed
5. Grain Traders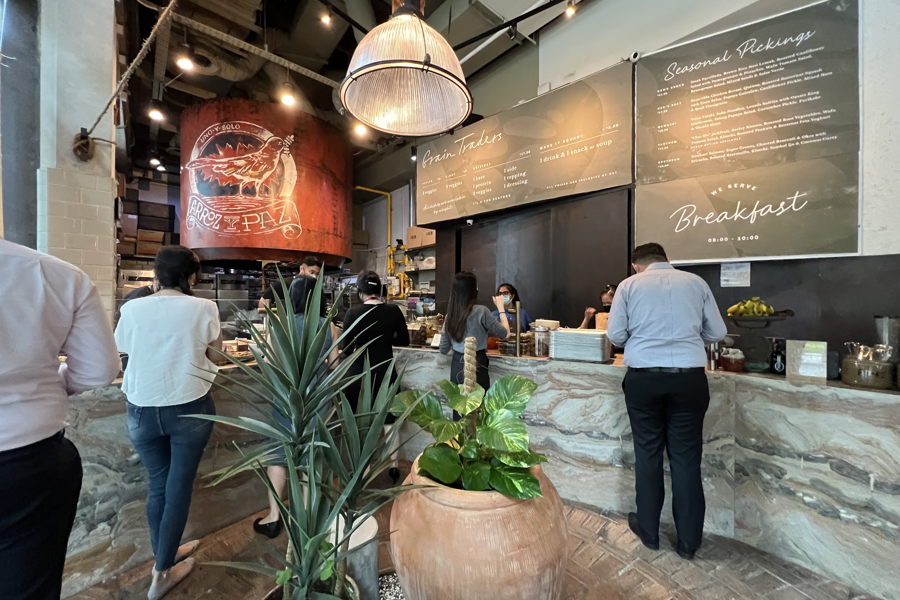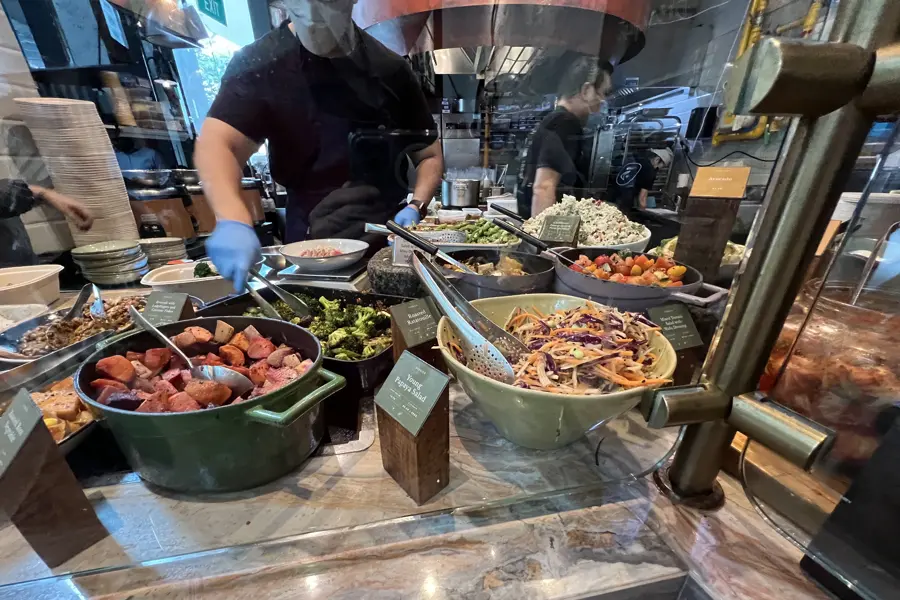 Grain Traders is a rustic-themed and healthy-dining eatery located at CapitaGreen in Market St, and offers a Westernised version of economical rice, albeit it being not as "economical" as its counterpart.

The eatery itself is self-service done in cafeteria style, with diners queuing up before the clear display and choosing their meal bowl ingredients, before proceeding to the cashier for payment. Their menu is mainly focused on wholesome meal bowls, with their dishes incorporating a mixture Western and Asian influences.
What their customers say:
One of my long time favourites ... their jackfruit is just amazing. To top that with the betroot yoghurt dressing and you have a winner all the way
They have managed to maintain the high quality of thier food for a really long time
One thing that would make this even more amazing is if fresh coffee was available during lunch hours, thought the do have cold brew well stocked for all the caffeine dose you will meed
Another one of my fave spots for good clean eating apart from Smol. When I need to detox, or prep for a marathon, I'm here all the time to make sure that I get my plant-based protein in. Lovely area to hang out with friends for healthy wholesome lunches as well. Would recommend to folks trying to eat cleaner and stay fit as well. If you're in a hurry to go back to office, this place is perfect too!
Address
01/02/03, 138 Market St, #01 CapitaGreen, Singapore 048946
Google Ratings
351 reviews (as of 28/06/2023)
Social Media
Google Maps Listing

Click Here

Operating Hours
Mon - Fri: 8am to 5pm
Sat - Sun: Closed
Disclaimer: The post contains information and content supplied by a guest contributor. This does not constitute or imply any endorsement or recommendation by ATA Medical Pte Ltd. It is your responsibility to verify and investigate the necessary services, products and/or providers. ATA Medical Pte Ltd assumes no responsibility, direct or indirect from the use of the information from this post.